I've had Trello for quite some time but I'm going to be honest with you, I wasn't really using it to its full potential until recently. A mentor of mine kept going on and on about how great Trello is, so eventually, I thought I'd give it another go. Turns out that I love it!
There is so much you can do with Trello and it's not just for project management. You can have boards for your editorial calendars, vacations, wedding or event planning, as a place for brain dumping, an inspirational vision board, chore lists and more!
Of course, it is a great place for project management as well. I use mine to manage multiple projects for myself, and I have individual boards for my clients.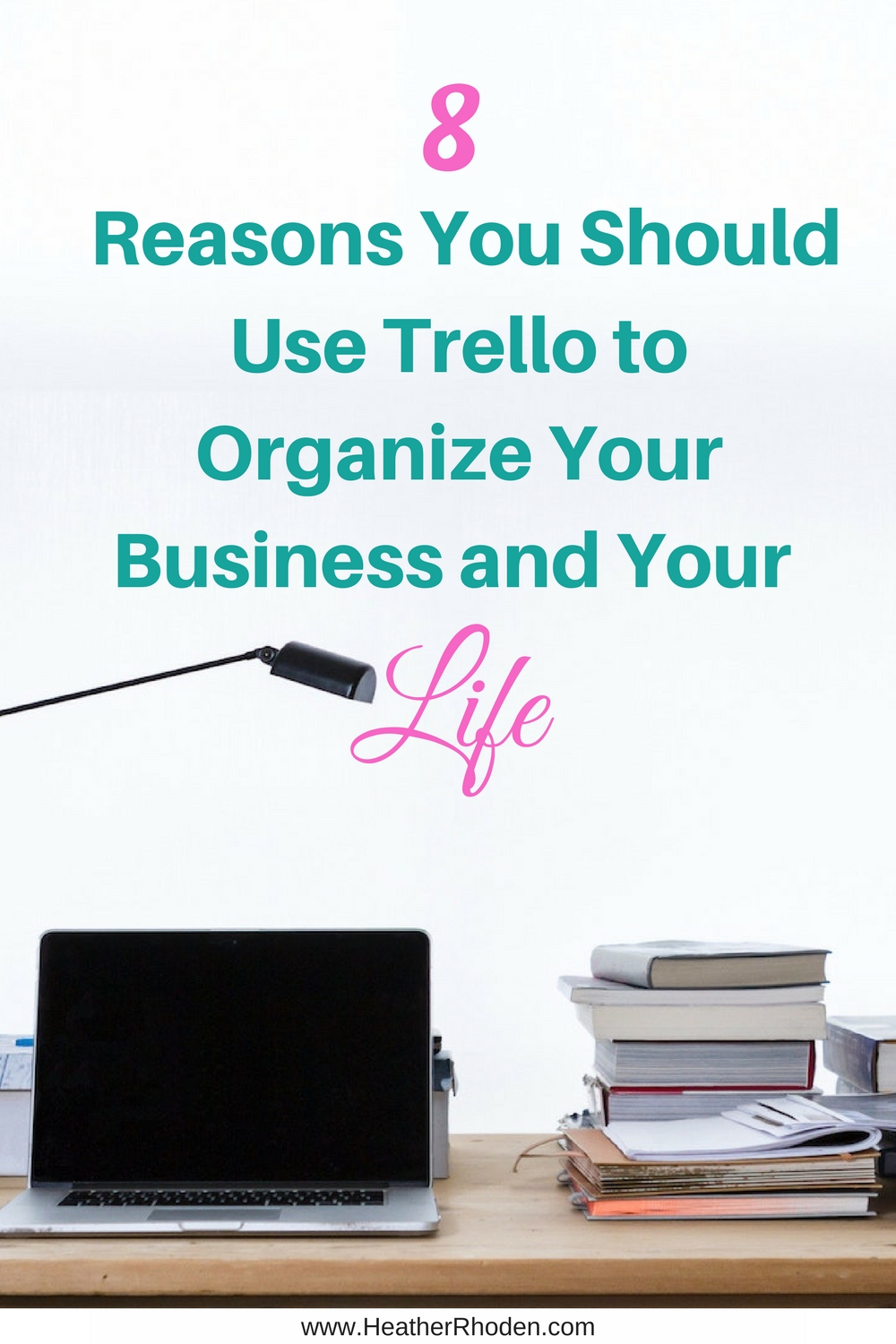 1 – It's visual
It's often called the "Pinterest of Project Management" tools. You have a visual representation of your projects, assignments, and what any team members are working on.
You can add images and stickers, highlight priorities, and at a glance be able to see what's being worked on, what's finished, and what has not been started yet.
This way, you can easily see what needs to be changed before it becomes a major problem. This can save you a lot of angst and prevent many "How did this happen?!" moments.
Alternatively, you can also see what's on schedule or even early! When something awesome happens, a great way to acknowledge this visually is to add it to your "Team Wins" list. (Even if it's just a team of one.)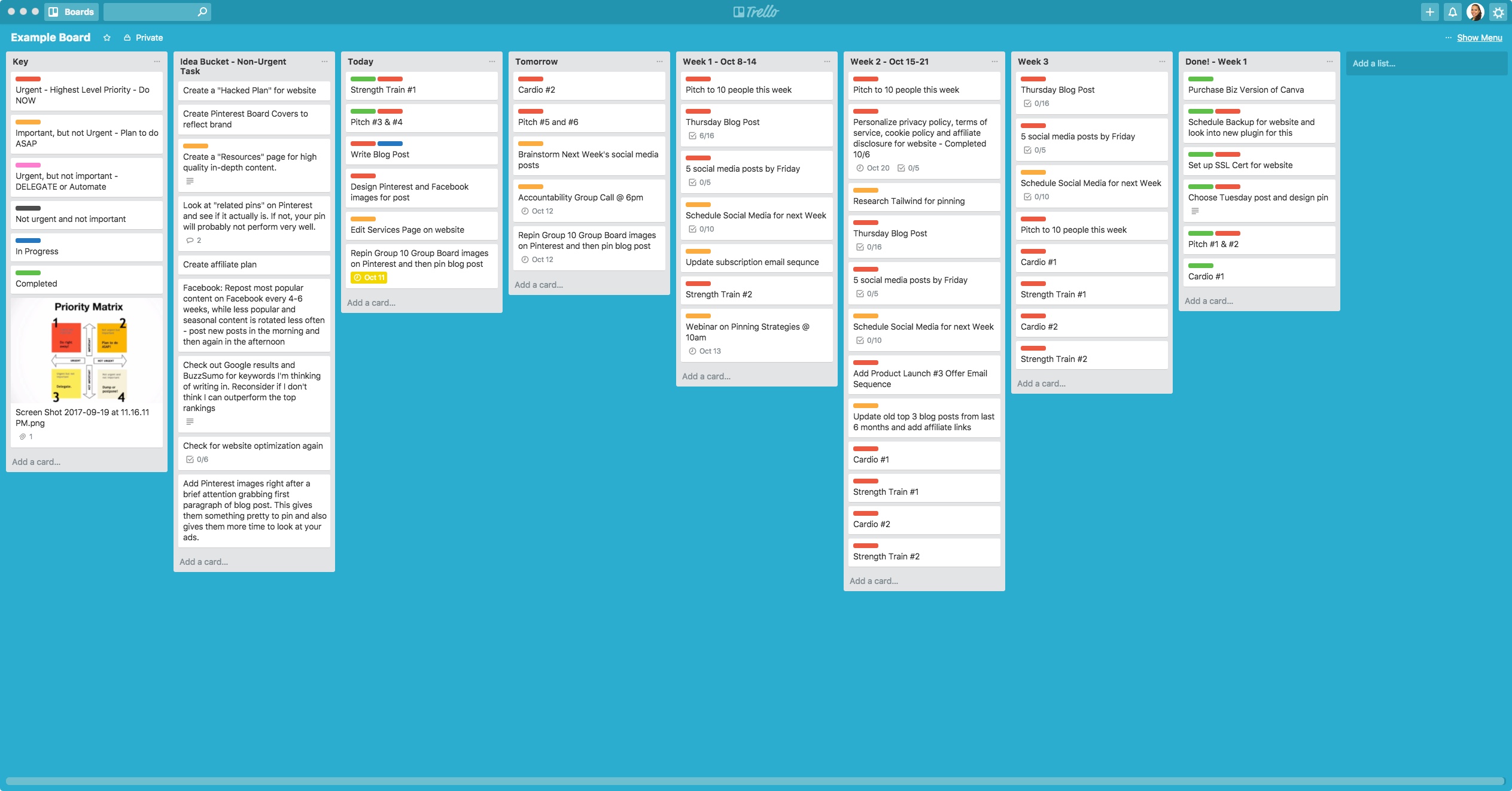 2- It's super user-friendly
You can have a new board up and running within minutes! If you run into trouble, there's a  super useful tutorial to help you out.
Here are some of the basics to get you started:
Boards: You can have as many boards as you want. Each board can be a project, a client, or an area of your life or business you want to organize such as an editorial calendar or household chores.
Lists: These are unlimited too. These are where you can break up tasks and keep them organized. An example would be if you're using the "12 Week Year" planning method or something similar. Each list would represent 1 of the 12 weeks.
I also like to use a weekly "Done" list so I see my progress and keep my weekly task list free of anything that doesn't need to be there any longer.
Additionally, I have a "Today" and "Tomorrow" list. This helps me focus on just a few items each day, and I can quickly look over at what is coming up tomorrow without worrying about what's happening 4 days from now.
I also like to have a "Key" list where I show the color of labels and what they mean for easy reference.
Cards: Here's where we get down to the details. These are the individual tasks (or tactics) that you need to perform in your lists. I can write a whole blog post on cards because there are so many neat things you can do with them.
My personal favorite is making checklists that show a progress bar. There's something so satisfying about checking a box and having the status bar grow.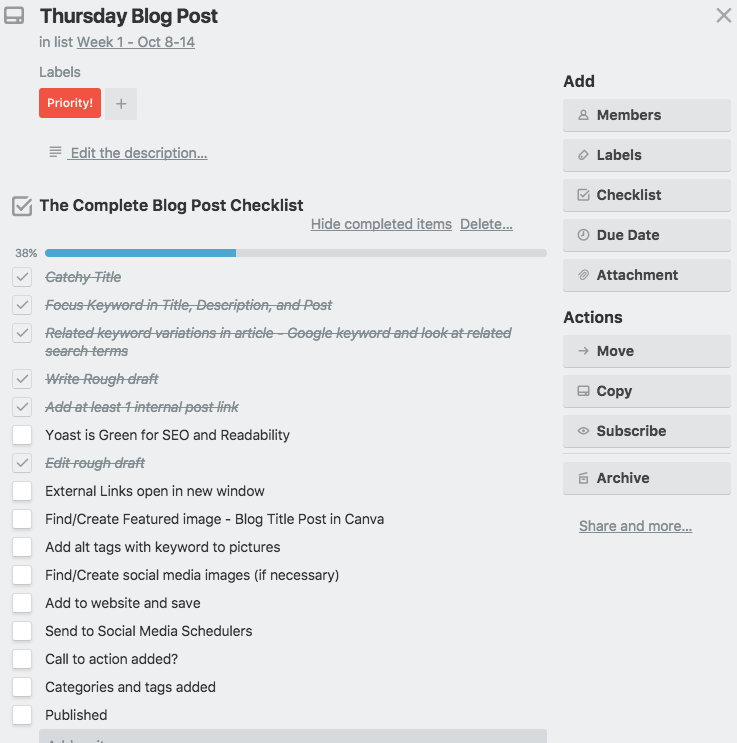 3 – You don't have to start from scratch
When first using Trello, it's easy to be a bit lost. It's simple to use but you might not know how you should organize your boards. The good news is you don't have to start from a blank board! There are templates you can use for inspiration, or you can just outright copy them and use as is.
Once you start using them, you'll learn what works and what doesn't. Changing your board is as easy as dragging and dropping and you can archive any cards that don't make sense. You can also bring back archived cards if you made a mistake.
4 – You can have your own personal boards or share it with a team
Your personal boards can be private so no one sees that you have "Play with your cat" as a major priority but you.
Alternatively, if you bring on a virtual assistant or hire employees, you can easily add them to your board later. (After deleting any embarrassing to-do list items.)
This is a great way to share your business systems without having to reinvent the wheel each time. You can have a card or board for everything the new addition needs to know, including videos and and documents.
5- You can move a card or even an entire list to a new board
For instance, if you have a private board with your to-do list, you can move a card or list over to a team board. Another way to use this is if you have an editorial calendar board but you want to see your content creation task for the day with all your other tasks, you can move that card, including any checklists and notes you have (if you want them), to a new board.
I love this feature! It saves so much time. I use this for repetitive to-do items that often come with checklists. This way, I don't have to write them over and over again.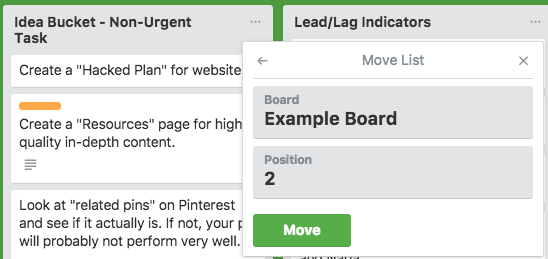 6 – It's free!
So you're probably thinking, "That's great, Heather, but I don't have any room left in my budget for expensive project management software. Well, guess what. There is a free version of Trello! And the best part is that you're not limited to 1 or 2 boards, you have an unlimited amount of boards you can create.
There are paid versions that let you use 2 or more "power-ups"  and other cool features, but the basic version with 1 power-up is free. This is GREAT for start-ups or cash-strapped businesses that need to focus on spending less and earning more. (And really, every business should focus on that!)
7 –  It's super portable.
You can use it on your laptop, your phone, or your smartwatch! There's not much else to say. It works on all your devices so you will always have access if you want it.
8 – There are extra cool features you can explore once you're comfortable
If you want to go deeper, they have a bunch of on-demand webinars so you can learn more. I only just scratched the surface of how powerful Trello is for project management. If you want to go deeper, check them out!
There are a lot of integrations you can add and remember, the first one is free. Examples include integrations with Slack, MailChimp, GitHub, Google Drive, Google Hangouts, Salesforce, and so much more. It really is a great tool for your business and life.
It really is a great tool for your business and life. I think we could all use a little less chaos and a little more clarity. Don't you agree?
Did You Like This Post?
As always, I hope you found this helpful! Please let me know if you have any questions. Also, if you liked this post, leave me a comment and subscribe!
If you're feeling overwhelmed, head over to my Work With Me page and see what I can do to help.