Ok, I'm not going to try to convince you that Facebook isn't an essential part of your internet marketing strategy and to ditch it entirely for Pinterest. I use Facebook and I think you should be using it too. However, the rules have changed and will continue to change, making FREE Facebook Page reach virtually nonexistent.
Taking that into consideration, there are things you can do to overcome the challenges of Facebook, and one method I strongly suggest is taking advantage of the incredible power of Pinterest.
Pinterest is one of my favorite platforms. I can spend hours looking at pretty pins simply for my own enjoyment and planning purposes. And that's key! Pinterest is a social platform, but it's more about the individual's wants and goals than it is about status updates and selfies.
When someone re-pins something, assuming it's in a public board, it shows up on their friends' and followers' feeds. That's great for exposure and exactly what we want! But the real magic is that pinners are actually using their boards to plan for future purchases.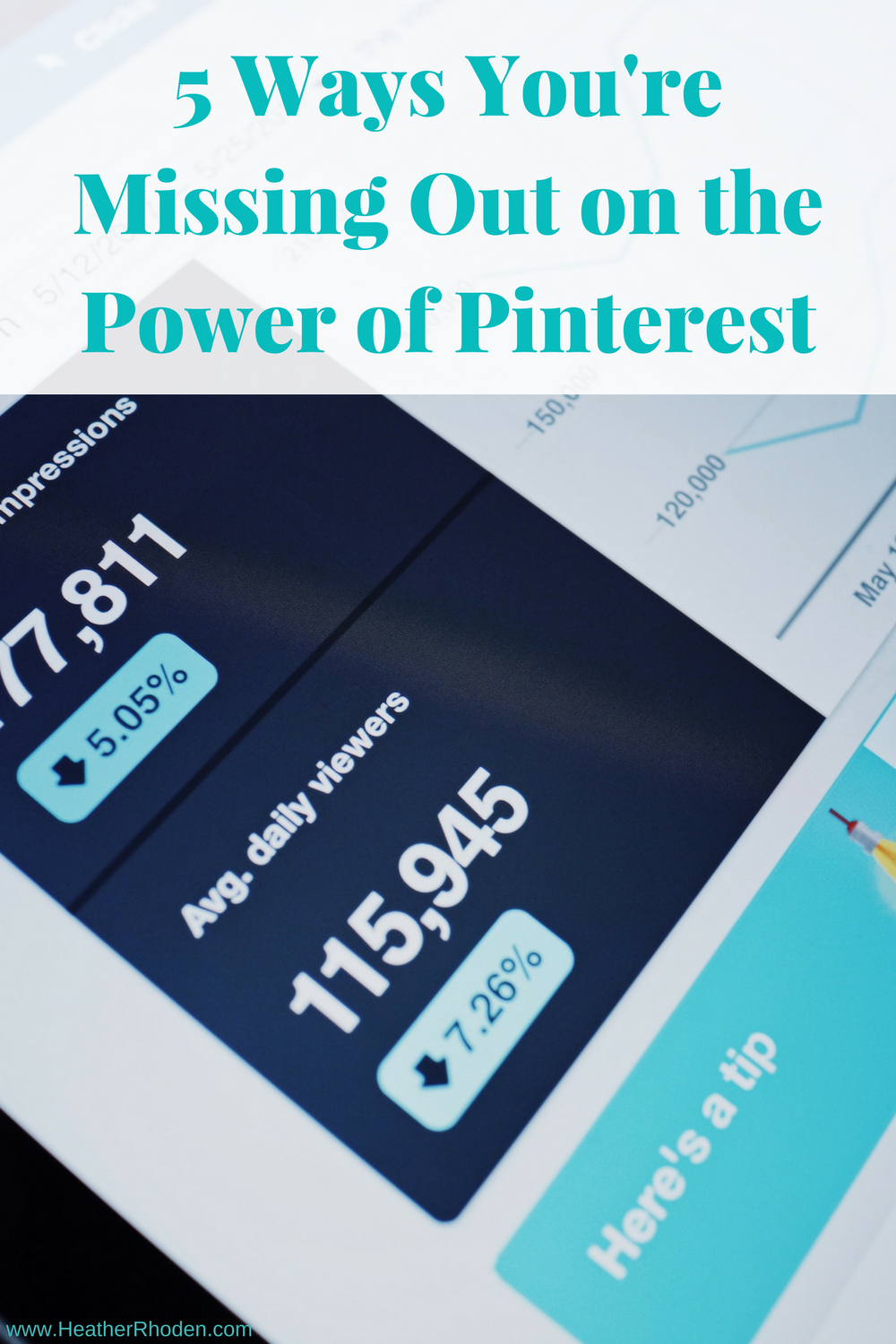 Pinners are using Pinterest to plan for future purchases.
This means when people are looking for a product to buy, a recipe to make, or a useful how-to, they're searching for relevant terms and are incredibly likely to make a purchase.  55% of Pinners said they use Pinterest to "shop for and find products"  which is more than 4x the rate of other digital platforms measured.
Your pins are around longer than 2 milliseconds
Instead of being around for a few minutes if you're lucky (like Facebook), Pinterest images are around for, well, basically forever. Pinterest is less of your typical social media platform and more of a visual search engine. If someone searches for a keyword and the Pinterest algorithm rates your pin as relevant, your pin shows up, linking back to your website and/or product.
Also, Pinterest will notify users of recent pins their friends have posted that it thinks will interest them too. This means if they missed it during their scrolling, there's a good chance Pinterest will still show it to them.
The key to keeping your pins around for a long time is designing optimized pins. This means a good, sharp image and a keyword-rich 2-3 sentence description. Pinterest is also experimenting with hashtags again. Right now, it looks like adding up to 2 or 3 relevant hashtags is expanding reach even more.
Pinterest has higher customer spend amounts, anyway.
According to this study, for every $100 that brands spend, they earned $50 more in profit than other channels, which gets you way more bang for your buck. If you're going to spend money on promoting something, I think we can agree that the higher ROI the better, right?
One thing that's great about promoted pins is they look just like the other pins, with a simple "Promoted" at the bottom. It's barely noticeable and blends in seamlessly with the other pins. Look at the image below. There are two promoted pins here. Did it take you a minute to spot them? (It did for me and I was actively looking for them.)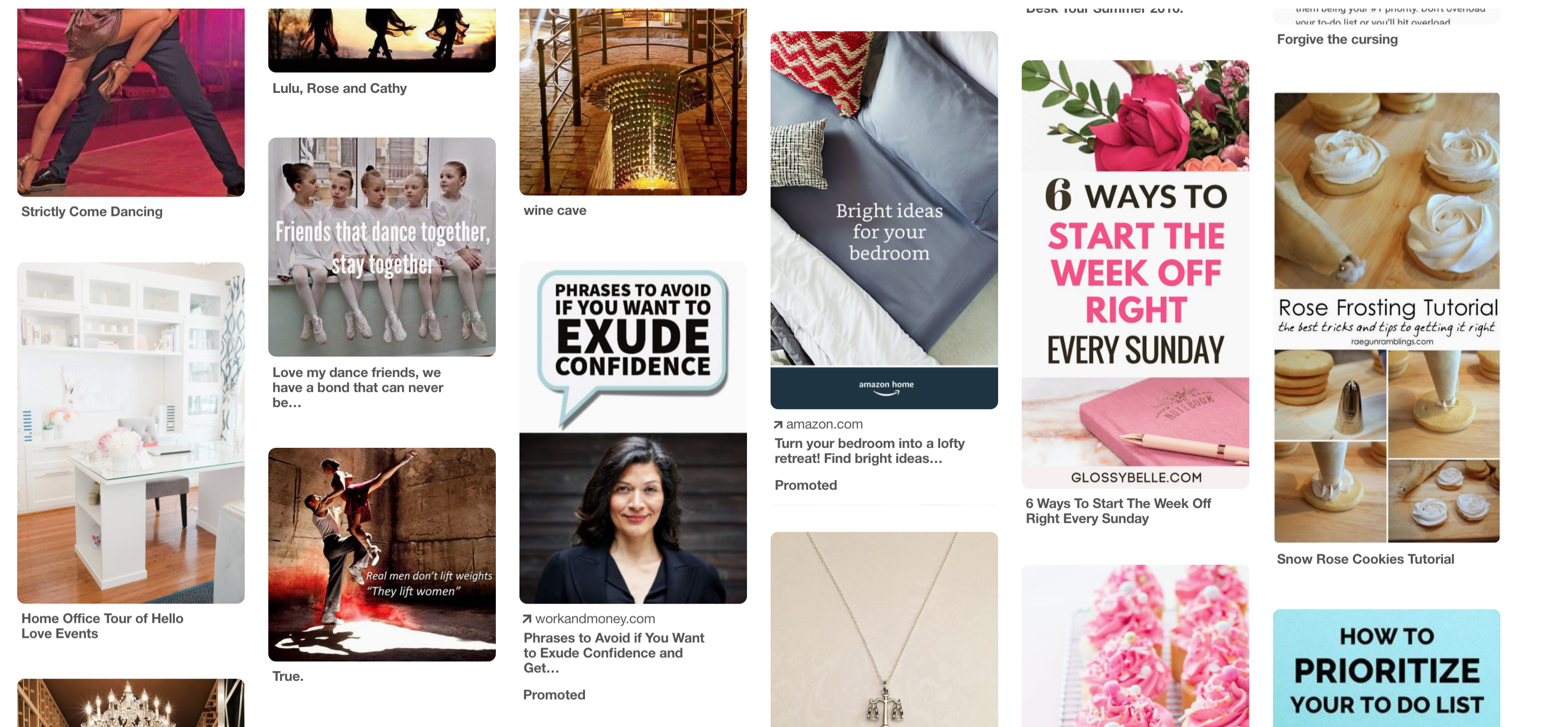 It's not just a place where women hang out anymore!
While Pinterest has been known for being a hotbed for millennial women (and still is), that's changing. 40% of new users have been men!
This is exciting for those with men in their audience who've been avoiding Pinterest in the past due to the lack of prospects on the platform. Pinterest has grown significantly in the past couple of years (50% increase in users since 2015) and a huge chunk of that growth has been men.
As more and more men join the platform, those who are already established on Pinterest will be set to take advantage. Don't wait! Get set up now!
Pinterest has higher engagement than other social media
Pinterest has a higher level of engagement than Facebook, which matters more than reach because reach can be fudged. What you want is people who actually interact with your content and turn into customers.
All the eyeballs on your pins in the world don't matter if your pins don't bring people to your website or products. On Pinterest, users are more likely to engage with your content than Facebook.
Did you enjoy this post?
Well, I hope I've given you some food for thought. I'm a big fan of Pinterest and what it can do for businesses. While I know it can be overwhelming to add a new platform, it's definitely worth it.
Still, if you're up to your eyeballs in social media statistics and items on your to-do list, you may want to consider getting help. The payoff is worth it and wouldn't it be great to take this off your plate?
If you're interested in learning more about getting help with your social media, I'm here for you! Head over to my Work With Me page then schedule a call so we can discuss your social media strategy and how I can best help you with your individual needs.
Otherwise, if you've got your social media under control, no sweat! Leave me a comment and let me know how you're maximizing your Pinterest potential.