If you're going to be in or near Philly during the holidays and looking to have fun without breaking the bank, check out these fun things to do! This post is geared towards people and groups without kids, but a lot of this is family friendly as well.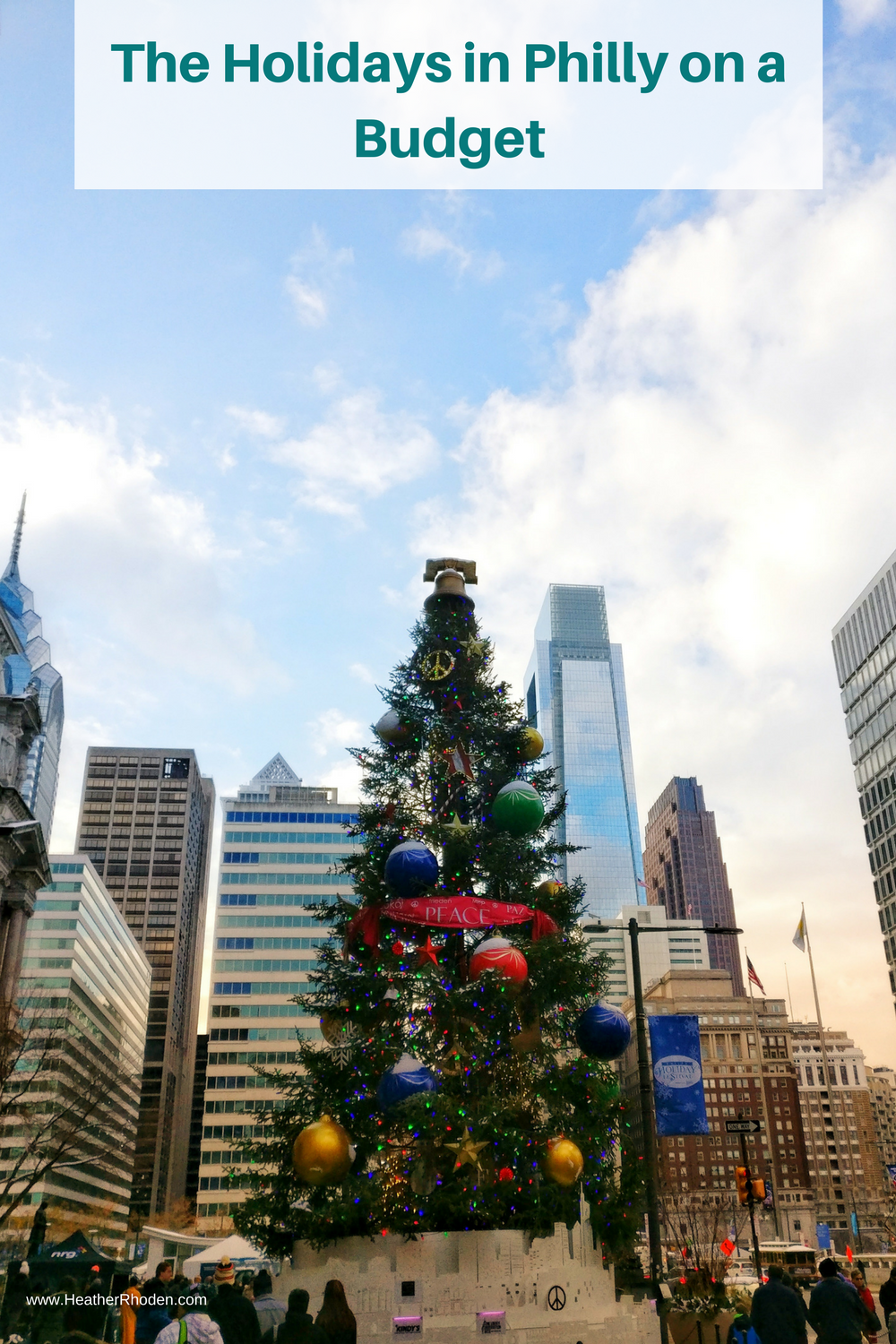 Philly on a Budget
First, if you're driving to Philly, install the free ParkWhiz app on your phone right now. It's amazing. We found parking a short walk from the Reading Terminal Market for $11 from 1 pm to 9 pm on a Sunday. It would have been $25+. You tell it where you're going and when, prepay in the app, and just follow the directions at the parking garage when you get there.
Cost: Cheap
Liberty Bell
If you haven't yet, check out the Liberty Bell and the Independence Visitor Center. It's an American icon and it's free! C'mon! Check it out for 'Merica!
Hours: 9 am – 5 pm (Liberty Bell) & 8:30 am –  6 pm (Independence Visitor Center) – Closed Christmas
Cost: FREE
Reading Terminal Market
If you're hungry, you have to check it out. I love this place!  It reminds me of some of the indoor markets in Europe. You can find almost any type of cuisine here for reasonable city prices. Get your lunch or breakfast here.
Hours: 8am-6pm through the holidays (Closed Christmas Day & some vendor early closures on Christmas Eve)
Cost: Reasonably priced food for the area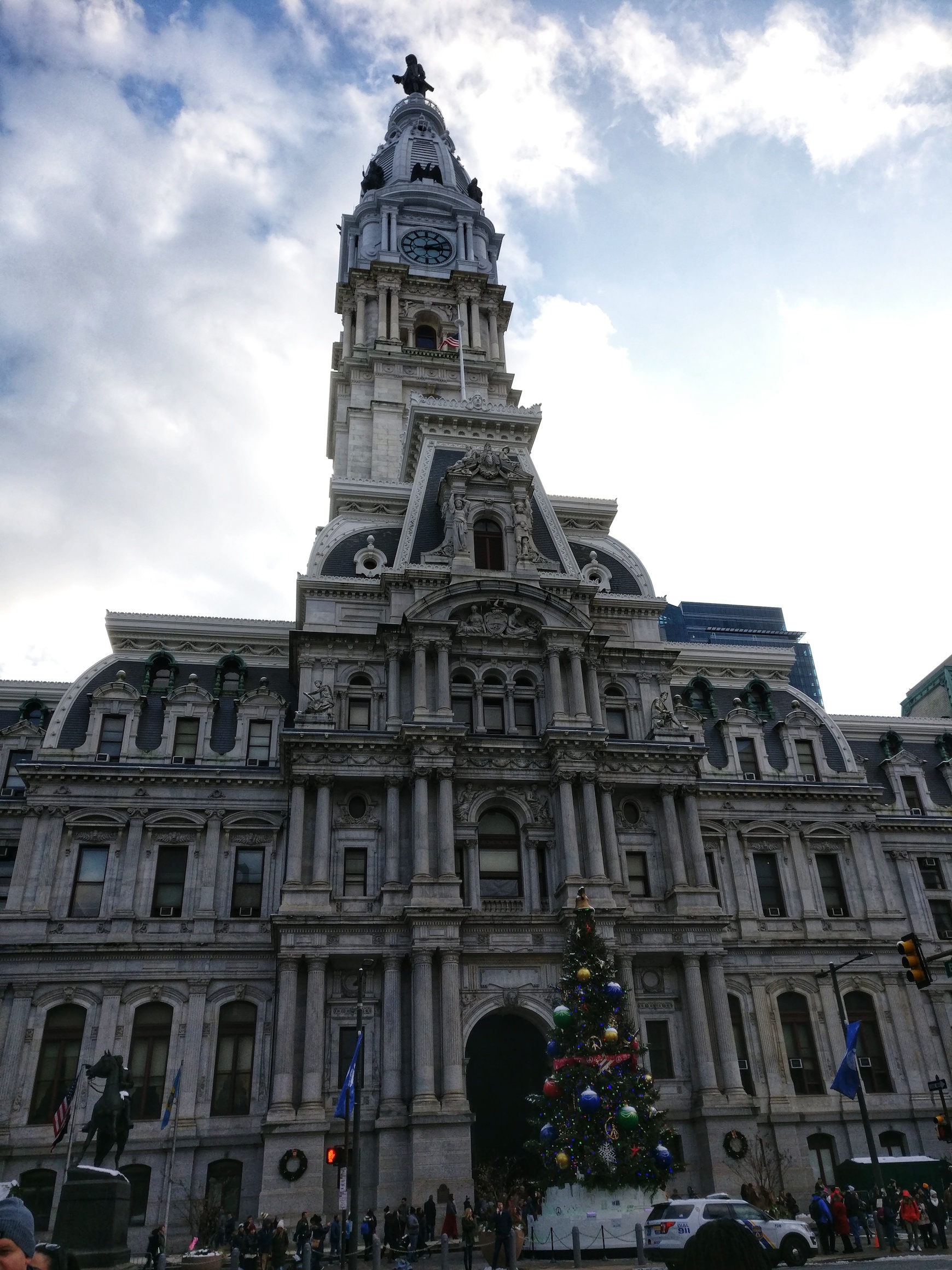 Municipal Building & Christmas Tree
Once you're done, be sure to check out the façade of the impressive Masonic Temple and the majestic Municipal Building serving as a backdrop to the Philadelphia Christmas tree. The tree is not nearly as big as the tree in the Rockafeller Center in NYC, but I actually like the decorations better.
Cost: FREE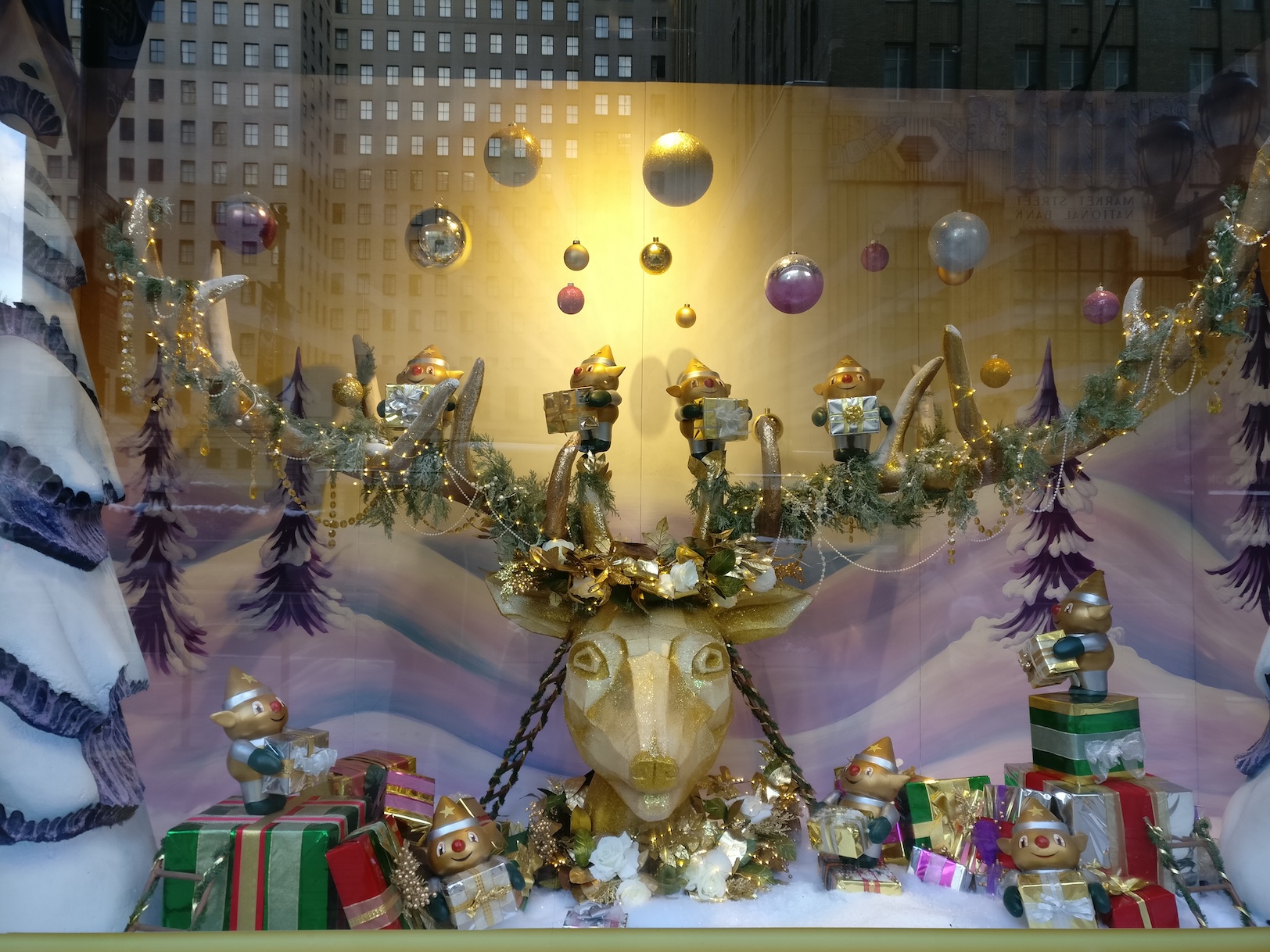 Macy's (Center City)
Continue walking and head to Macy's. Not all the department stores decorate their windows like in NYC, but the Philadephia Macy's does. It's actually the first store to do it and it keeps that tradition alive.
Now go inside. What? I know, I know. I told you this was for a budget, but hear me out. I'm not telling you to buy anything. Instead, if you time it right, between Thanksgiving and Christmas, there is a light and organ show every two hours between 10 am – 8 pm.  It's pretty cute but if you're strapped for time and don't have kids, skip it.
Instead, head up to the 3rd floor and check out the Dicken's Village. It's a huge section of the floor entirely dedicated to the telling the A Christmas Carol (you know, Scrooge?) that you walk through. If you can, watch the light show from the 3rd floor on the organ side and head to the Dicken's Village immediately after. No bathroom break for you until afterward! If you're too slow, you will wait forever.
Otherwise, try to time it so you get there in between shows to reduce the wait. We went right in and barely had a line and it was totally worth it. If I had to wait an hour? Nah.
Hours: Light Show: Thanksgiving – Dec 31st: 10am, 12pm, 2pm 4pm, 6pm, and 8pm
Cost: FREE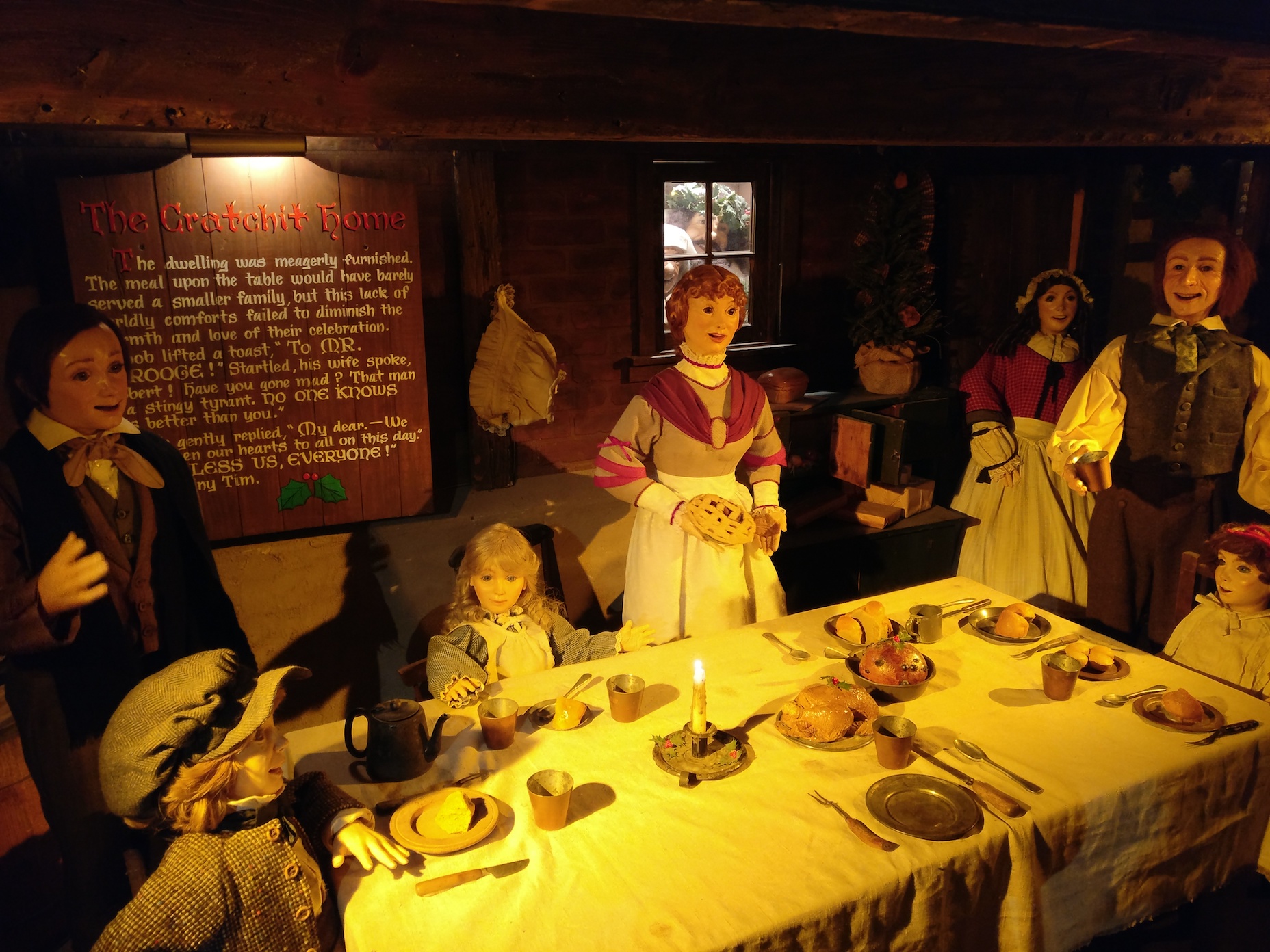 Rothman Institute and American Garden Capital Maze
Next walk through the Rothman Institute and American Garden Capital Maze. If you're dying to go ice skating in a scenic location, why not do it while overlooking the Made in Philadelphia Holiday Market? Walk through the "maze" and admire the winter plants. It's not really a maze, though, but it's nice for a quick selfie.
Cost: Free – $15 (if you skate)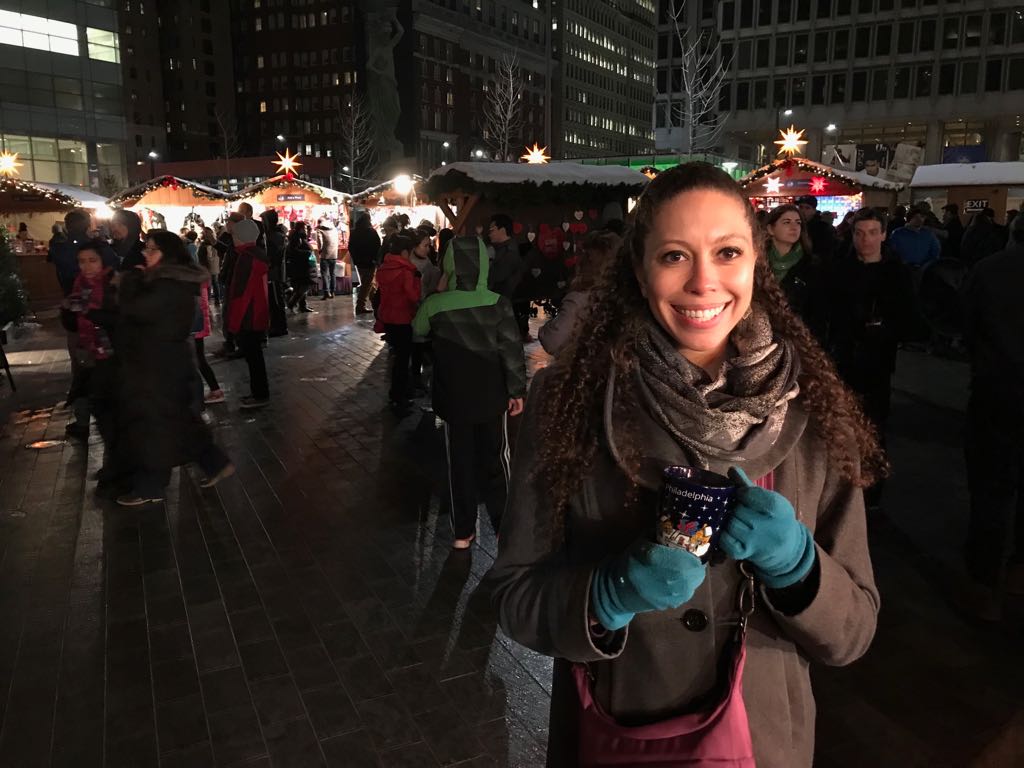 The Philadelphia Christmas Market
From there, head to the best part of the day. My absolute favorite thing: The Philly Christmas Market in LOVE park! It's about as close to a German Christmas market that I've found. There's warm Gluehwein in holiday mugs (which you keep, there's no money back for returning them here), doener kebab, currywurst, and other wursts, schnitzel, and even spaetzle. I was in heaven!
This year is the first year that I've made it to the market. If you went a few years ago, you might have doubts about how good this is, but I've been told they really upped their game over the last couple of years. They even bring in the Christkind from the Neurnburg Christmas market for the opening ceremony! Walk around here and take in the atmosphere, and get your dinner here.
Hours: Runs until Christmas Eve Sun-Thurs: 11 am – 7 pm | Fri- Sat: 11 am – 8 pm | Christmas Eve: 11 am – 5 pm
Cost: FREE or reasonable city prices if you get your street food here
What Is Your Favorite Budget-Friendly Activity in Philly? Let me know!
If you decide to check some of these out, let me know! Also, if you know Philly really well and think I left something out, be sure to tell me in the comments. I'd love to add more fun things to do that's kind of wallets.
Heading to NYC too? Check out my post on NYC on a budget during Christmastime! I live in New Jersey so I like to go to both during the holidays. They're great cities with very different vibes.